You can create Groups to easily communicate with multiple people at once. Groups are collections of your Clubhouse users that are defined by you, and will help make cross-functional collaboration easier within Clubhouse. Your Groups are scoped to a single Workspace.
Once created, your Groups can be @-mentioned anywhere markdown is supported, and all members of the Group will receive notifications. Groups can only be created, edited, archived and @mentioned at this time. Additional functionality such as assigning entities to Groups and filtering by Groups throughout the platform will be added soon.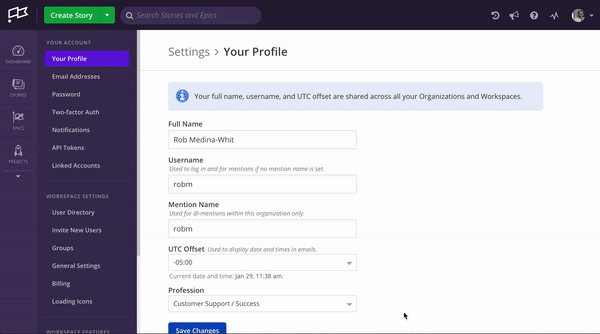 Any Owner, Admin, and Member role in a Clubhouse Workspace can create and manage a Group.

To create a Group:
Navigate to Settings
Select Groups from Workspace Settings
Select Create Group

Choose a Group Name
Choose a Group mention (Used for @-mentions within the Workspace only)
Optional Create a Group description
Optional Upload a profile icon for the Group

Select Add Members and choose the individuals for your Group

Group members will receive a notification when you add or remove them from a Group

When finished, select Create Group
Managing Groups
When you select a Group you would like to manage, you'll be given the same options as during Group creation to edit your Group details and members (see above for reference). If no longer needed, you can archive your Group by selecting the Archive Group button at the bottom. Groups cannot be deleted.